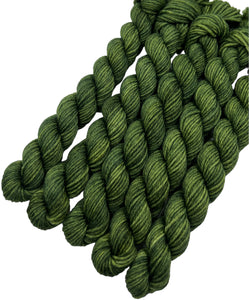 Bottle Green (Hawthorne)
Whether it conjures up images of holly wreaths and mistletoe, inviting you to embrace the festive spirit, or the lush foliage of a fairy-tale garden where leaves sway and whisper enchanting secrets in the breeze, Bottle Green is a lovely hue for all seasons, beckoning you into its magical realm of possibilities.
75% SW Merino, 25% Nylon
4-ply, DK
49 Yards, 20 grams
21-24 sts / 4 in
NS: US 5-7
Hand dyed using professional grade acid dyes
For best results, hand wash cold and lay flat to dry.
As hand-dyed yarn is subject to variation, even with the same dye lot, if using more than one hank in a project, alternate hanks every few rows to compensate for variations in tone and pattern.