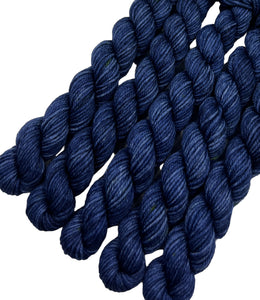 Hiberna (Hawthorne)
A Latin noun from which we take "hibernate", and that's just what this color of blue brings to mind when an icy arctic wind beats at the door and rattles the windows.
These 20 gram mini hanks are great to have on hand! Use them for a pop of color in your favorite project like the heels and toes in socks, or use a bunch to make a blanket, scrappy socks or endless amounts of other projects. We'd love to hear your favorite use for them!
75% SW Merino, 25% Nylon
4-ply, DK
49 Yards, 20 grams
21-24 sts / 4 in
NS: US 5-7
Hand dyed using professional grade acid dyes
For best results, hand wash cold and lay flat to dry.
As hand-dyed yarn is subject to variation, even with the same dye lot, if using more than one hank in a project, alternate hanks every few rows to compensate for variations in tone and pattern.