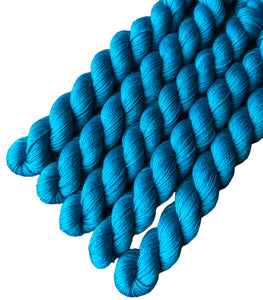 Teal We Meet Again (Alcott)
Teal is known as the universal color since most people can wear it and look amazing! Teal We Meet Again is no exception to this rule, and works well for people who have fair or dark skin tones, light or bright eyes and
 possesses a unique ability to complement a wide range of color palettes, effortlessly harmonizing with neutrals, earth tones, and even vibrant hues! It's a must-have!
75% Superwash Merino, 25% Nylon
4 ply Sock/Fingering
92 yards, 20 grams
27-32 sts / 4 in
NS: US 1-3
Hand dyed using professional grade acid dyes
For best results, hand wash cold and lay flat to dry.
As hand-dyed yarn is subject to variation, even with the same dye lot, if using more than one hank in a project, alternate hanks every few rows to compensate for variations in tone and pattern.