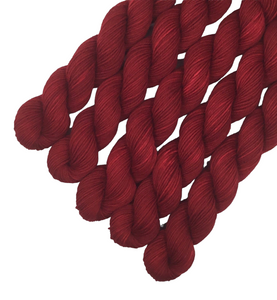 Spindleprick Red (Alcott)
Originally dyed for our Grimm's Black Forest Steek-A-Long, this intense red is quickly becoming a fan favorite! 
In this crimson concoction, echoes of Snow White's fateful bite intertwine with Little Red Riding Hood's crimson cape, forming a color that's both alluring and slightly treacherous. The wicked queen beckons you to plunge into its rich depths, just as she tempted Snow White with a forbidden apple.
75% Superwash Merino, 25% nylon
4 ply Sock/Fingering
92 yards, 20 grams
27-32 sts / 4 in
NS: US 1-3
Hand dyed using professional grade acid dyes
For best results, hand wash cold and lay flat to dry.
As hand-dyed yarn is subject to variation, even with the same dye lot, if using more than one hank in a project, alternate hanks every few rows to compensate for variations in tone and pattern.