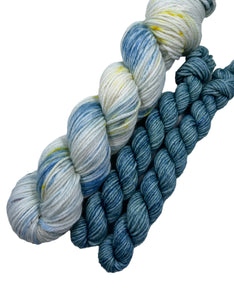 Whimsy Sock Sets! (Worsted)
Regular price $45.50 Sale
Ready to do some Christmas knitting/crocheting? We've got you covered with these whimsy sock sets - so called because these colorways are not shop regulars. You'll receive one full skein in Seed Pod and two coordinating minis in Words Of Wisdom as shown in the picture.
Note: As always, check your pattern requirements to ensure you have the proper yardage. Worsted weight sock patterns seem to vary more than others.
The mini skeins are of the same fiber content as the full skein, but in 43 yards.
100% Superwash Merino
4 ply, Worsted
218 yards, 100 grams, 16-20 stitches/4 inch, NS: US 7-9
Hand dyed using professional grade acid dyes
For best results, hand wash cold and lay flat to dry.
As hand-dyed yarn is subject to variation, even with the same dye lot, if using more than one hank in a project, alternate hanks every few rows to compensate for variations in tone and pattern.