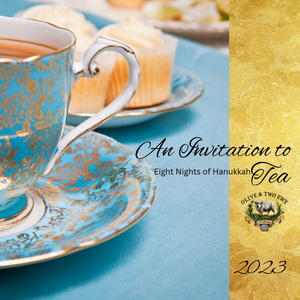 Eight Nights of Hanukkah 2023
Regular price $160.00 Sale
** THIS IS A PREORDER
Add a little yarn to your Hanukkah celebrations in 2023! You're invited to tea with Olive & Two Ewe Studios. 
Your box will include 5 mini skeins of our Alcott yarn, one full size hank of our Twain yarn and two non-yarn gifts! Open one each night or open all packages on the night of your choosing!
We will be unboxing LIVE on YouTube each morning of the eight days of Hanukkah, if you'd like to open with us. The theme is An Invitation to Tea and the box is a great gift for yourself or someone else! This box ships to you by November 24 in time for delivery prior to your Hanukkah celebrations!
Please note that this box will be different than our Twelve Days of Christmas Calendar box; different colorways and different goodies!