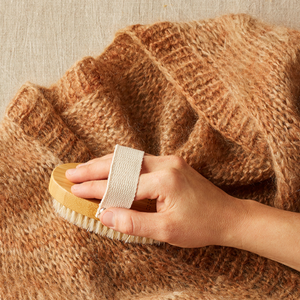 CocoKnits Sweater Care Brush
Regular price $15.00 Sale
CocoKnits knows that keeping our handmade sweaters beautiful requires a little care and some great tools. The Sweater Care Brush allows you to refresh and rejuvenate your textiles so they look their best and last for years. Not only does it fluff up mohair and alpaca, it removes lint and other fibers from clothing and household fabrics. The natural boar bristles are so much more effective and less staticky than the usual synthetic bristles. The smooth oval body is comfortable in the hand and made from sustainable bamboo. The cotton twill handle completes its functionality and beautiful look.
Each brush is packaged in a reusable linen drawstring bag to minimize packaging waste.
Dimensions: 5" / 12.75 cm x 2.5" / 6.5 cm x 1.25" / 3 cm
Your order will include one brush in its own drawstring bag.
This is a PREORDER and your item will ship as soon as it arrives at our studio.