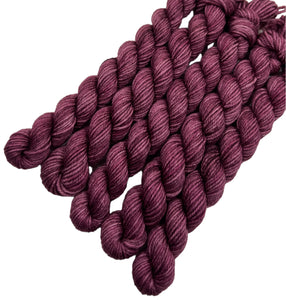 Dance Of The Sugar Plum Fairy (Hawthorne)
A plummy purple first seen in a Twelve Days of Christmas...
These 20 gram mini hanks are great to have on hand! Use them for a smidge of accent in your favorite project like the heels and toes in socks, or use a bunch to make a blanket, scrappy socks or endless amounts of other projects. We'd love to hear your favorite use for them!
75% SW Merino, 25% Nylon
4-ply, DK
49 Yards, 20 grams
21-24 sts / 4 in
NS: US 5-7
Hand dyed using professional grade acid dyes
For best results, hand wash cold and lay flat to dry.
As hand-dyed yarn is subject to variation, even with the same dye lot, if using more than one hank in a project, alternate hanks every few rows to compensate for variations in tone and pattern.