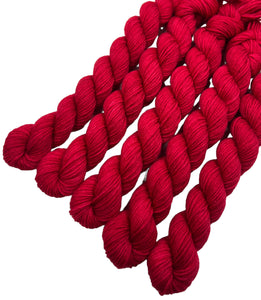 Red Letter Day (Alcott)
A red letter day is like a unicorn sighting – rare, magical, and totally unforgettable! It's the kind of day that makes you want to throw a party, dance in the streets, or wear your fanciest hat to the grocery store. Maybe you got a promotion at work, finally turned that languishing WIP into an FO, or just had the best hair day of your life. Whatever the reason, a red letter day is a cause for celebration! It's a day when the sun shines a little brighter, the birds sing a little sweeter, and the universe gives you a big high five for being awesome.
These 20 gram mini hanks are great to have on hand! Use them for a pop of color in your favorite project like the heels and toes in socks, or use a bunch to make a blanket, scrappy socks or endless amounts of other projects. We'd love to hear your favorite use for them! 
75% Superwash Merino, 25% nylon
4 ply Sock/Fingering
92 yards, 20 grams
27-32 sts / 4 in
NS: US 1-3
Hand dyed using professional grade acid dyes
For best results, hand wash cold and lay flat to dry.
As hand-dyed yarn is subject to variation, even with the same dye lot, if using more than one hank in a project, alternate hanks every few rows to compensate for variations in tone and pattern.